The Covid-19 Emergency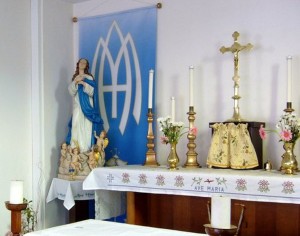 (By the Law of the Church, the obligation to attend Holy Mass on Sundays and Days of Obligation is removed during this time of emergency.)
Regrettably the church is now closed for public worship (except funerals) until 3rd December. However, the Lady Chapel will be open for private prayer at these times:
Sunday 2.00 pm – 3.00 pm
Monday 6.00 pm – 7.00 pm
Tuesday 9.00 am – 10.00 am
Fr Alex will continue to say Mass regularly. A list of Mass Intentions can be found on the

inside

of the church door.
————————————–
The church will be open for Mass from the evening of Wednesday 2nd
               Wed 2nd     7.30pm      Mass (Polish)
Thu 3rd       9.30am      Mass
Fri 4th          9.30am      Mass
                                    7.30pm      Mass (Polish)
Sat 5th        9.30am      Mass
                       4.00pm      Mass *
                            Sun 6th        9.30am      Mass *       SECOND IN ADVENT
                    11.30am    Mass * (Polish)
                    1.00pm      Mass * (Polish)
                    7.30pm      Mass * (Polish)
*  For these Masses you must book your place on  www.massbookings.uk
—————————————–
LIVE STREAMING OF MASS
This is available in many places, for instance:
The Vatican:
https://www.vaticannews.va/en/pope/news/2020-03/pope-francis-daily-mass-casa-santa-marta-coronavirus.html
Walsingham:
St Barnabas Cathedral Nottingham:
http://www.stbarnabascathedral.org.uk/01_Community/livestream.html
Bishop's House (on Youtube):
https://www.youtube.com/channel/UCaf7upUMsn3Kl8GD79FotjQ/featured?disable_polymer=1
St Norbert's Spalding: