The Covid-19 Emergency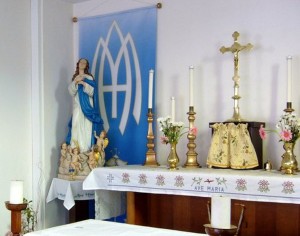 All public worship has now ceased.
(By the Law of the Church, the obligation to attend Holy Mass on Sundays and Days of Obligation is removed during this time of emergency.)
Regrettably, the church is now entirely closed until further notice.
LIVE STREAMING OF MASS
This is available in many places, for instance:
The Vatican:
https://www.vaticannews.va/en/pope/news/2020-03/pope-francis-daily-mass-casa-santa-marta-coronavirus.html
Walsingham:
http://www.walsingham.org.uk/live-stream
St Barnabas Cathedral Nottingham:
http://www.stbarnabascathedral.org.uk/01_Community/livestream.html
Bishop's House (on Youtube):
https://www.youtube.com/channel/UCaf7upUMsn3Kl8GD79FotjQ/featured?disable_polymer=1
St Norbert's Spalding:
http://s639515207.websitehome.co.uk/livefromchurch
HOLY MASS
Mass will continue to be offered privately on a daily basis by the priests resident in the parish.
It will be offered for the parish and for all other needs. These include your particular intentions. Offerings for Mass intentions may be posted in plain envelopes through the Presbytery door. If you wish to know the day the Mass will be offered, please include your name and a contact number.
As often as the sacrifice of the Cross by which 'Christ our Pasch has been sacrificed' is celebrated on the altar, the work of our redemption is carried out. (Catechism 1364)
MASS INTENTIONS
MAY
Sat 30th a.m.: Annamma Chacko RIP
Sat 30th V: Canon Colin Taylor RIP
Sun 31st: People of the Parish
JUNE
Tue 2nd: Fr Joseph McGovern RIP
Wed 3rd: Canon John Duckett RIP
Thu 4th: Mr & Mrs Chacko & Mr & Mrs Varghese RIP
Fri 5th: Samuel Bell RIP (Foundation)
Sat 6th a.m.: Fr William Wells RIP
Sat 6th V: People of the Parish
Sun 7th: Fr Eamonn O'Hara RIP