The Covid-19 Emergency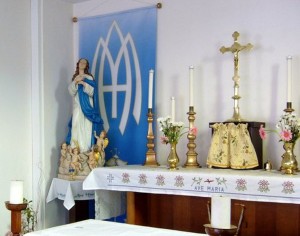 All public worship has now ceased.
(By the Law of the Church, the obligation to attend Holy Mass on Sundays and Days of Obligation is removed during this time of emergency.)
MOVING ON
The church will remain closed until late July for the installation of a new heating system.
The Hall is now open for private prayer at these times:
Sun.     2.00pm – 3.00pm
Mon.   6.00pm – 7.00pm
Tue.    9.00am – 10.00am
Wed.   6.00pm – 7.00pm
Thu.    9.00am – 10.00am
Fri.      6.00pm – 7.00pm
Sat.      9.00am – 10.00am
Deo Gratias
HOLY MASS
Mass will continue to be offered privately on a daily basis by the priests resident in the parish.
It will be offered for the parish and for all other needs. These include your particular intentions. Offerings for Mass intentions may be posted in plain envelopes through the Presbytery door. If you wish to know the day the Mass will be offered, please include your name and a contact number.
As often as the sacrifice of the Cross by which 'Christ our Pasch has been sacrificed' is celebrated on the altar, the work of our redemption is carried out. (Catechism 1364)
MASS INTENTIONS
JULY
Sat 11th V: Fr Terence Nunn RIP
Sun 12th: People of the Parish
Sun 19th: People of the Parish
LIVE STREAMING OF MASS
This is available in many places, for instance:
The Vatican:
https://www.vaticannews.va/en/pope/news/2020-03/pope-francis-daily-mass-casa-santa-marta-coronavirus.html
Walsingham:
http://www.walsingham.org.uk/live-stream
St Barnabas Cathedral Nottingham:
http://www.stbarnabascathedral.org.uk/01_Community/livestream.html
Bishop's House (on Youtube):
https://www.youtube.com/channel/UCaf7upUMsn3Kl8GD79FotjQ/featured?disable_polymer=1
St Norbert's Spalding:
http://s639515207.websitehome.co.uk/livefromchurch