The Covid-19 Emergency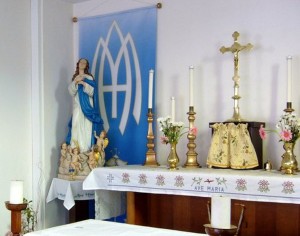 (By the Law of the Church, the obligation to attend Holy Mass on Sundays and Days of Obligation is removed during this time of emergency.)
OPENING OF THE CHURCH FOR MASS
We are pleased to announce that public celebrations of Mass will begin again with the Vigil Mass at 4.00pm on Saturday 25th July.
PLEASE NOTE: From Saturday 8th, facemasks must be worn in church. If you are medically exempt, please wear your lanyard/badge or speak to one of the stewards.
The weekly schedule will be as usual.
The maximum number of places for each Mass will be 45 (plus 4 on the sanctuary).
During the week you can just turn up, though you will have to leave your name and contact details for track and trace purposes.
But for the weekend Masses YOU WILL HAVE TO BOOK ON LINE. The dedicated website is:
www.massbooking.uk
You will be asked to register (name and password). You then look for St Mary's within the Nottingham Diocese section and enter your name for the Mass you wish to attend.
You can book either a single seat or a family pew provided that you are sure a whole family group will actually attend (no 'just to make sure', please.)
If you are not able to book on line, please ask a friend to do it for you. (There may be a central number provided by the Diocese but there is some uncertainty about this at present.)
The way we will celebrate Mass together will be different and may well feel rather strange, but we will become accustomed to it and it is a small price to pay for the joy of being able to gather once more for Messiah's Feast.
Twenty-Sixth Week of Ordinary Time
Sat 26th               Feria
9.30 am               Mass
11.00 am             First Communion Mass  (Polish)
1.00 pm               First Communion Mass  (Polish)
2.30 pm               Baptism of Edith-Eileen Anne Threadgill
4.00 pm               Mass
Sun 27th              TWENTY-SIXTH SUNDAY OF ORDINARY TIME
9.30 am               Mass People of the Parish
11.30 am             Mass (Polish language)
1.00 pm               Mass (Polish language)
7.30 pm               Mass (Polish language)
Mon 28th            Feria
12.00 noon         Mass (Polish language)
Tues 29th            SAINTS MICHAEL,GABRIEL & RAPHAEL, ARCHANGELS (FEAST)
9.30 am               Mass Fr Bernard Grimley RIP
Wed 30th                 Saint Jerome, Priest & Doctor (Memorial)
9.30 am               Mass Sabu Jacob – critically ill
7.30 pm               Mass (in Polish)
Thurs 1st             Saint Thérèse of the Child Jesus, Virgin & Doctor (Memorial)
9.30 am               Mass Fred Scrupps RIP
Fri 2nd                  The Holy Guardian Angels (Memorial)
9.30 am               Mass Sabu Jacob – critically ill
7.30 pm               Mass (Polish language)
Sat 3rd                 Feria
9.30 am               Mass
4.00 pm               Mass People of the Parish
Sun 4th                TWENTY-SEVENTH SUNDAY OF ORDINARY TIME
9.30 am               Mass  Sabu Jacob – critically ill
11.30 am             Mass (Polish language)
1.00 pm               Mass (Polish language)
7.30 pm               Mass (Polish language)
LIVE STREAMING OF MASS
This is available in many places, for instance:
The Vatican:
https://www.vaticannews.va/en/pope/news/2020-03/pope-francis-daily-mass-casa-santa-marta-coronavirus.html
Walsingham:
http://www.walsingham.org.uk/live-stream
St Barnabas Cathedral Nottingham:
http://www.stbarnabascathedral.org.uk/01_Community/livestream.html
Bishop's House (on Youtube):
https://www.youtube.com/channel/UCaf7upUMsn3Kl8GD79FotjQ/featured?disable_polymer=1
St Norbert's Spalding:
http://s639515207.websitehome.co.uk/livefromchurch